Product Description
With the development of microelectronics technology, the speed of microprocessors is getting faster and faster, and the prices are getting lower and lower. Software. Even many problems that were difficult to solve or could not be solved with hardware circuits can be solved very well by software technology. The development of digital signal processing technology and the widespread adoption of high-speed digital signal processors have greatly enhanced the signal processing capabilities of the instrument. Digital filtering, FFT, correlation, and convolution are common methods of signal processing. Their common feature is that the main operations of the algorithm are composed of iterative multiplication and addition. If these operations are completed by software on a general-purpose computer, the calculation time is It is longer, and the digital signal processor completes the above multiplication and addition operations through hardware, which greatly improves the performance of the instrument and promotes the widespread application of digital signal processing technology in the field of instrumentation.

Specifications:
Material: FR4
Layer: 6L
Copper thickness: 1OZ
Board thickness: 1.6mm
Surface Finishing: LF HASL
Solder mask color: Green
Silkscreen color:
Describe: Min 25um hole copper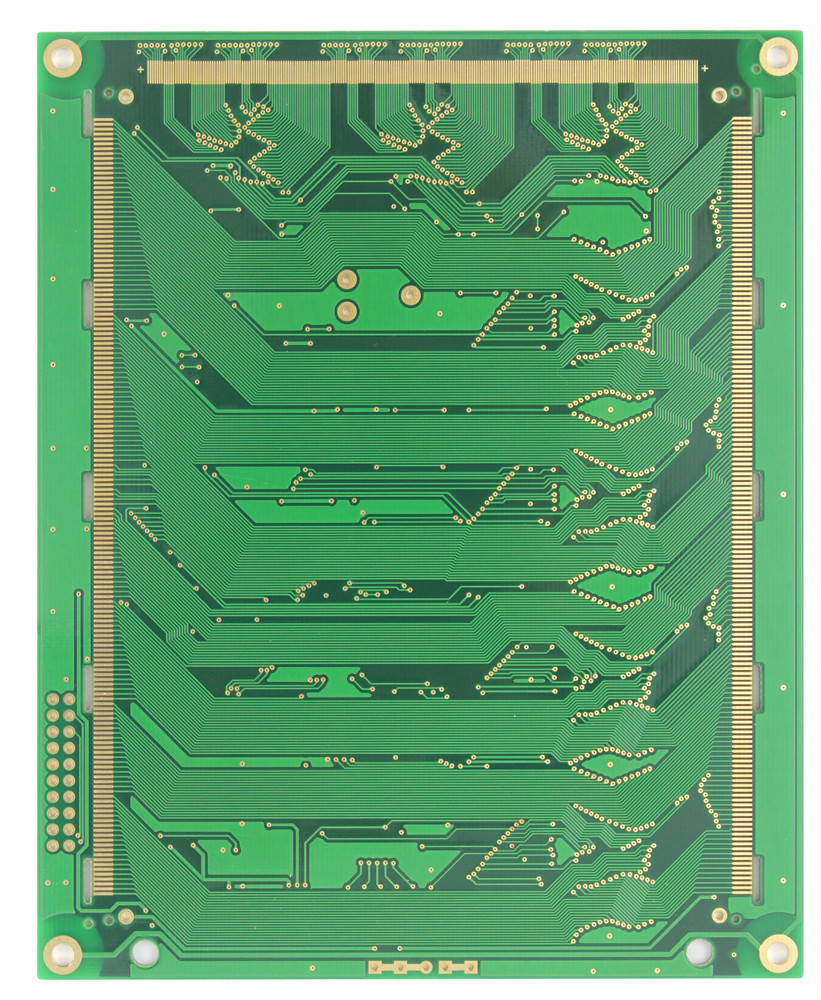 _________________________________________________________________________________________________
Printed circuit boards abbreviation as PCB. A conductive pattern which is formed on a dielectric material in a predetermined design to form a printed circuit, a printed component, or a combination of the two is generally referred to as a printed circuit. And a conductive pattern that provides electrical connection between components on an insulating substrate, called printed circuits.
PCB characteristics
● High density. For decades, the high density of printed boards has grown with the increased integration of integrated circuits and advances in mounting technology.
● High reliability. Through a series of inspections, tests and aging tests, the PCB can be reliably operated for a long period of time (usually 20 years).
● Designability. For the various performances of PCB (electrical, physical, chemical, mechanical, etc.), the design of printed boards can be realized through design standardization and standardization, with short time and high efficiency.
● Productivity. With modern management, it can carry out standardization, scale (quantity), automation and other production to ensure product quality consistency.
● Testability. Established relatively complete test methods, test standards, various test equipment and instruments to detect and identify PCB product qualification and service life.
● Assemblyability. PCB products not only facilitate the standardized assembly of various components, but also can be automated, large-scale mass production. At the same time, the PCB and various component assembly components can be assembled to form larger components and systems up to the complete machine.
● Maintainability. Since PCB products and various component assembly components are produced in a standardized design and scale, these components are also standardized. Therefore, once the system fails, it can be replaced quickly, conveniently and flexibly, and the system can be quickly restored. Of course, you can say more about it. Such as miniaturization and weight reduction of the system, high-speed signal transmission, etc.
____________________________________________________________________________________
ChuangYing Electronics
FOUR Advantages
Quality with promise
More than 15 years
Team Pursuit of first-class quality
1, About the factory--More than 15 years industry experience: Self-built factory, 15 years of focus on circuit board manufacturing.
☆ Flip Aluminium PCB: The share of Aluminum industry more than 45%, service and quality have won the praise of customers.
☆ Advanced equipment: PVC plating line, CNC V-CUT machine, Dongtai high speed drilling machine, high speed flying probe testing machine, microscope, copper foil tensile tester, ion pollution degree detector.
2, Top technical team - fast delivery, professional service
☆ 50 professional and technical people with more than 10 years of PCB experience have rich experience in various industry standards and process quality requirements.
☆ Provide after-sales technical support, quickly respond to bad feedback, solve customer's difficult problems
3, Certifications - UL, IO9001:2015, ISO14001:2015, IATF16949
☆ All products undergo strict SGS testing and meet ROHS requirements
☆ Implement TQM quality management and 6σ management mode, continuous improvement, good rate 99%
☆ Quality control seniors are skilled in IATF16949, QS9000 requirements,and have their internal auditor qualification certificate
4.Work with well-known companies - trustworthy PCB manufacturers
☆ Over the years, has business contacts with many well-known companies such as BYD, Huawei, Schneider, and Siemens etc., and has maintained long-term supply relationships with these industry benchmarking companies.
☆ The products are exported to Europe, America, Japan, Middle East, Philippines and other overseas markets, and are well received and trusted by customers.