Product Description
Various lighting and signal devices are installed on the car to ensure the safety and reliable operation of the car. It is used to illuminate the road, indicate the width of the car and the location of the car, and illuminate the interior of the car. Indicating instruments and vehicle maintenance at night. In addition, under turning, braking, meeting, parking, reversing and other working conditions, it should also emit light or sound signals to warn pedestrians and other vehicles.
With the development of electronic products in the direction of "light, thin, short and small", LED aluminum boards are also developing to high density and high difficulty. A large number of SMT and BGA PCBs appear, and customers should be led aluminum substrate manufacturers when mounting components to plug hole, mainly because:
1. Preventing short circuit of tin from the through hole through the component surface during over-wave soldering of the LED aluminum substrate;
2. Avoid flux remaining in the via hole;
3. After the surface mount and component assembly is completed, the PCB is vacuumed on the test machine to form a negative pressure:
4. Prevent the surface solder paste from flowing into the hole to cause solder joints, which affects the placement;
5. Prevent the soldering of the solder balls from over-wave soldering, causing a short circuit.

Specifications:
Material: Aluminium
Layer: 1L
Copper thickness: 1OZ
Board thickness: 1.2mm
Surface Finishing: HASL-LF
Solder mask color: White
Solder mask brand: Taiyo
Thermal Conductivity: 8.0W/M.K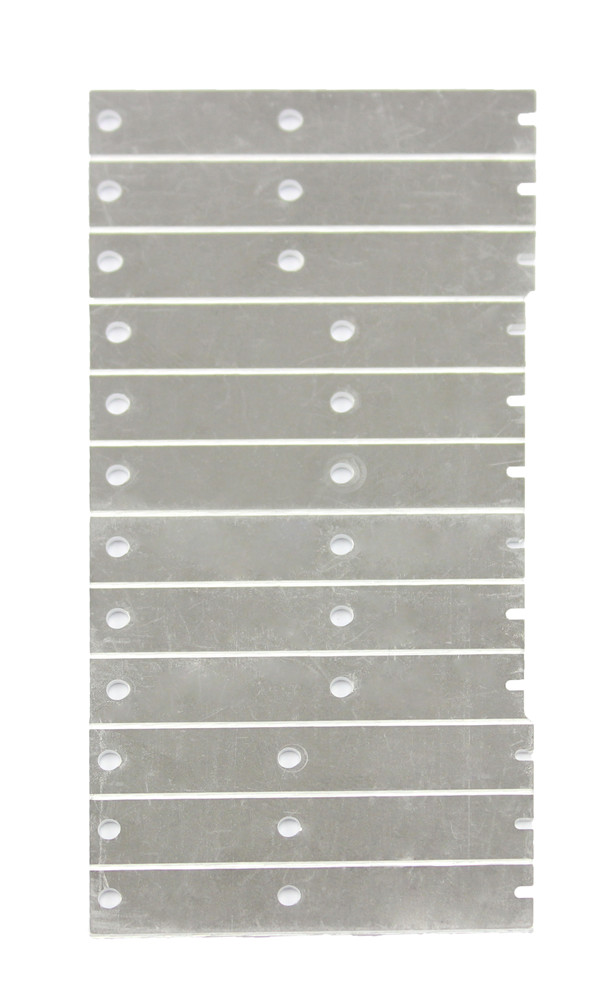 ________________________________________________________________________________________________
Aluminum circuit boards is a metal-based copper clad plate with good heat dissipation function. Generally, the single layer is composed of three-layer structure, which is a circuit layer (copper foil), an insulating layer and a metal base layer. Also used for high tech use is designed as double layers, the structure is circuit layer, insulation layer, aluminum base, insulation layer, circuit layer. A very small number of applications are multi-layer boards, which can be made of ordinary multi-layer boards combined with an insulating layer and an aluminum base.
Aluminum PCB characteristics
● Surface Mount Technology (SMT);
● Extremely efficient treatment of thermal diffusion in circuit design;
● Reduce product operating temperature, increase product power density and reliability, and extend product life;
● Reduce product size and reduce hardware and assembly costs;
● Replace the fragile ceramic substrate for better mechanical durability.
Aluminum PCB use:
● Audio equipment
Input, output amplifiers, balanced amplifiers, audio amplifiers, preamplifiers, power amplifiers, etc.
● Power supply equipment
Switching regulator, DC/AC converter, SW regulator, etc.
● Communication electronic equipment
High frequency amplifier, filtering appliance, reporting circuit, etc.
● Office automation equipment
Motor drive, etc.
● Automotive
Electronic regulator, ligniter, power controller, etc.
● Computer
CPU board, floppy disk drive, power supply unit, etc.
● Power module
Inverter, solid relay, rectifier bridge and so on.
● LED lighting
With the promotion of energy-saving lamps, various energy-saving and beautiful LED lamps have been well received by the market, and aluminum PCB used for LED lamps have also begun to be applied on a large scale.
______________________________________________________________________________________________________________________________
ChuangYing Electronics
FOUR Advantages
Quality with promise
More than 15 years
Team Pursuit of first-class quality
1, About the factory--More than 15 years industry experience: Self-built factory, 15 years of focus on circuit board manufacturing.
☆ Flip Aluminium PCB: The share of Aluminum industry more than 45%, service and quality have won the praise of customers.
☆ Advanced equipment: PVC plating line, CNC V-CUT machine, Dongtai high speed drilling machine, high speed flying probe testing machine, microscope, copper foil tensile tester, ion pollution degree detector.
2, Top technical team - fast delivery, professional service
☆ 50 professional and technical people with more than 10 years of PCB experience have rich experience in various industry standards and process quality requirements.
☆ Provide after-sales technical support, quickly respond to bad feedback, solve customer's difficult problems
3, Certifications - UL, IO9001:2015, ISO14001:2015, IATF16949
☆ All products undergo strict SGS testing and meet ROHS requirements
☆ Implement TQM quality management and 6σ management mode, continuous improvement, good rate 99%
☆ Quality control seniors are skilled in IATF16949, QS9000 requirements,and have their internal auditor qualification certificate
4.Work with well-known companies - trustworthy PCB manufacturers
☆ Over the years, has business contacts with many well-known companies such as BYD, Huawei, Schneider, and Siemens etc., and has maintained long-term supply relationships with these industry benchmarking companies.
☆ The products are exported to Europe, America, Japan, Middle East, Philippines and other overseas markets, and are well received and trusted by customers.